Mp3 Stream Recorder v2.2
The Mp3 stream recorder allows you to record live mp3 stream from servers all over the Internet, so you can listen to the live feed whenever you like.
How to use the program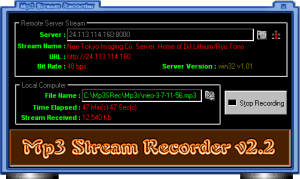 To record a server stream enter the server address in the box, and select a file which you would like to save this stream to.
Once you have done this press the record button, this will then start recording the live stream to your computer. The program will also give you information about the stream. (e.g. Steam Name, URL, Bit rate, Server Version etc.)
You can also specify the amount of the stream that you may want to record. You can specify this in the recording options.
To pull up the main system menu, just right mouse click on a empty bit of the program, and a system menu should pop up. Here you can access more options, as well as searching for certain mp3 server by category, or setting up your proxy and login settings.
Requirements
Windows 95
32Mb's RAM
2 MB's Hard Drive Space
486 Processor or Higher
33.6k Modem or greater for recording streams
100 MB or more hard disk Space for saving the files to.
Features
Work with your web browser to record mp3 streams
Easy to use interface
Links to mp3 server streams
Proxy server support
Mp3 Stream Recorder Download

To Do List
Improve User Manual
Improve the User Interface and Accessibility options
Include a listen mode option to list to the live stream (before and during).
Problems with some servers, look into the problem.
Split stream into multiple tracks or single track.
Add a VCR Timer section with multiple mp3 streaming sessions.
Add a listing feature with the recorded stream.
Pause button for recording, and continues recording.
At this time XRMX Software Solutions has decided to stop all activity on this product. We may tidy up some of the code within the program and then maybe make it available to open source.